Cortex Virtual ADMET Screening
Boost your leads' success rate!
Cortex's advanced deep learning system excels in predicting the biological, chemical, and physical properties of small molecules. Our comprehensive services span every facet of preclinical drug discovery, from initial hit identification to lead optimization.
By first screening your hits or analogs with our system, you significantly reduce the risk of drug candidates failing due to compound toxicity or inadequate ADME properties, streamlining the lead optimization process. This approach not only reduces the number of back-and-forth testing iterations but also leads to significant time savings and minimizes the need for costly experiments.
Just provide us with a list of SMILES or equivalent data, and we'll deliver a comprehensive report containing all relevant ADMET predictions for these compounds.
Predicted Properties
We consistently expand our repertoire of predicted properties and can accommodate specific requests based on the availability of requisite training data.
Physicochemical

Log P
Solubility in water
Solubility in DMSO at 10 mM

ADE

Solubility in FaSSIF
PAMPA permeability
Caco-2 A→B permeability
Fraction unbound in plasma
Half-life in plasma
Half-life in liver microsome

Toxicity

Cytotoxicity in various cell lines
Genotoxicity
hERG inhibitor

Metabolism

CYP1A2 antagonist
CYP2A9 agonist
CYP2C9 antagonist
CYP2C10 antagonist
CYP2D6 antagonist
CYP3A4 agonist/antagonist
CYP19A1 antagonist
AhR activator
CAR agonist / inhibitor
PXR agonist
CSTO1 inhibitor
ALDH1A1 inhibitor
Example
Here is an example of our in silico ADMET reports (click to enlarge):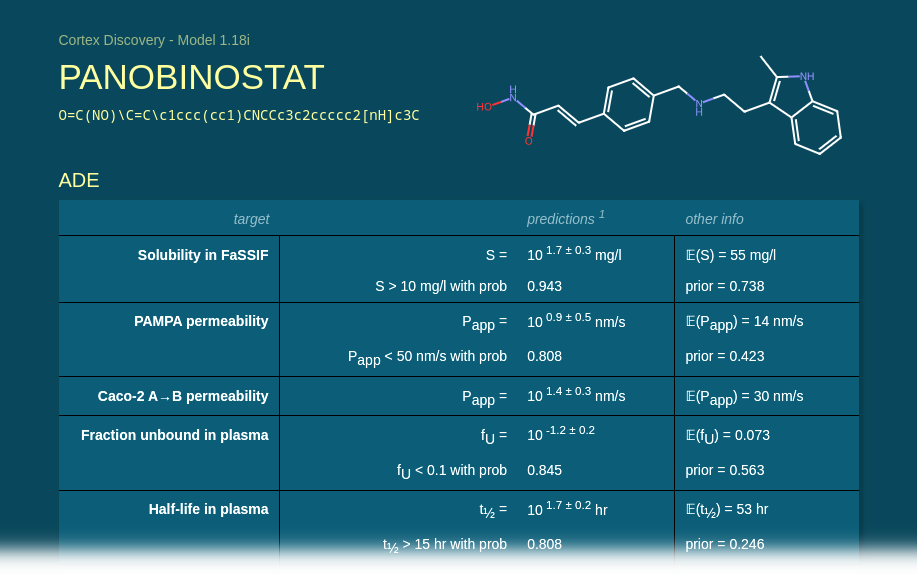 Confidence Assessment
Crucially, the report furnishes a quantitative measure of the neural network's confidence level for each unique prediction and molecule. The neural network is not solely trained to make precise property predictions but also to gauge the likelihood of their accuracy, enabling it to generate dependable probability estimates of its own confidence.
This empowers you to make informed decisions regarding data interpretation. Our dedicated team is readily available to offer assistance and provide additional insights into each prediction, including details about the training data properties or the neural network's measured prediction accuracy.
Pricing
Our pricing model is designed to cater to projects of all sizes, offering an appealing structure for both small and large-scale endeavors. We will gladly provide a customized quote tailored to your specific requirements.
Contact Us